Barringer Was an Icon of Early American Championship Auto Racing

Indianapolis 500 Years: 1934-1946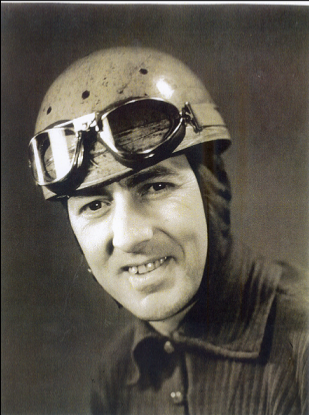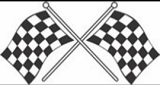 In the months leading up to the 1941 Indy 500, Barringer toured the country for several months talking about the advantage of Gulf Oil products.
He was ready for Indy. The car had ran like a top in Bonneville, and Barringer was looking forward to the race. Al Miller (no relation to Harry Miller) would be driving the second Miller rear-engine car..
Both teams were very optimistic as race time approached. Both Miller and Barringer had worked on their cars for nearly a year. Barringer had a qualifying speed of over 122 miles per hour, and it appeared this might be his year to win.
About three o'clock on the morning of the race, Barringer was in the garage, filling up his gas tanks. The fumes from the gas were ignited by a welder in the adjacent stall. They were able to save Al Miller's car, but Barringer's car was burned beyond repair.
George Barringer was out of the 1941 race.
That would be the last Indy race for the next four years, because war was fast approaching.

REAR-ENGINED JOB AT SPEEDWAY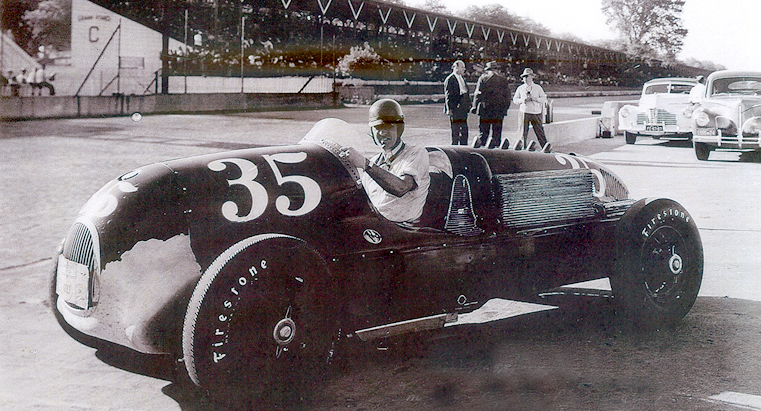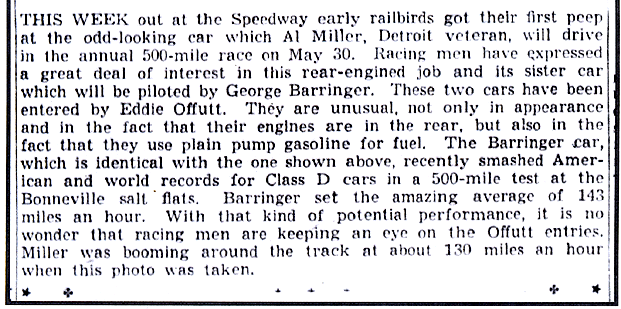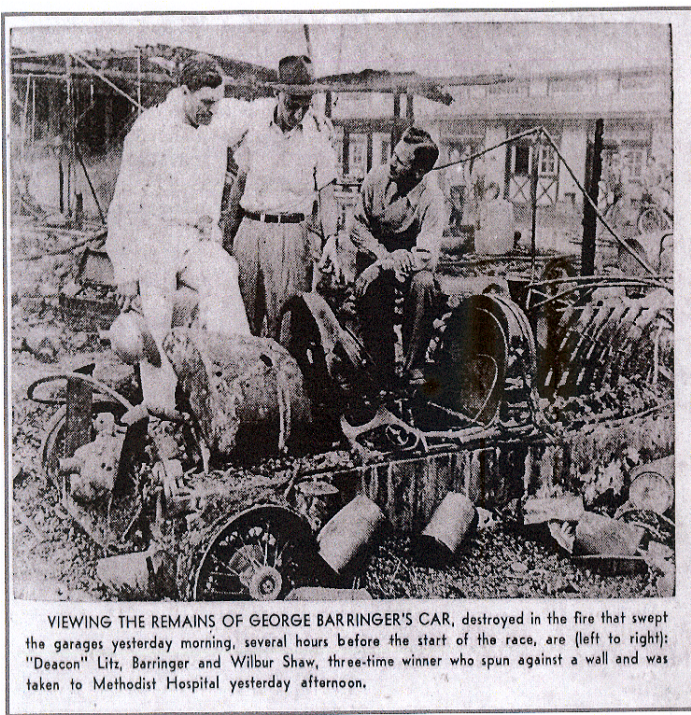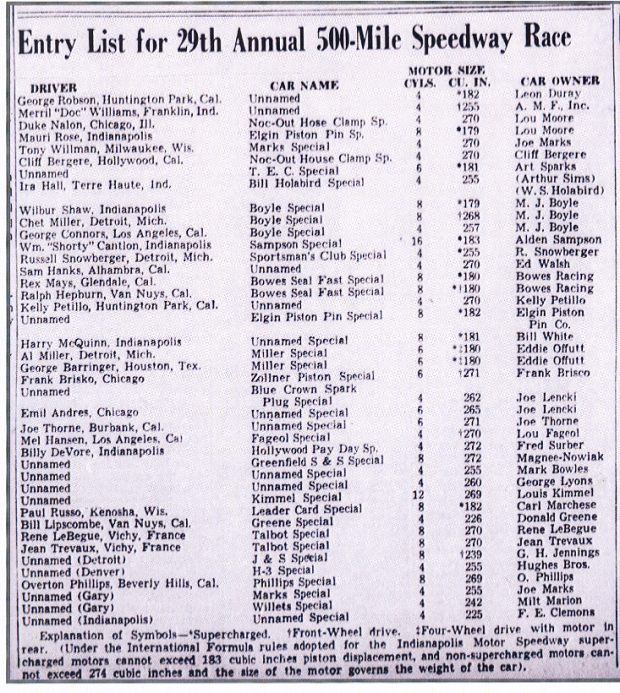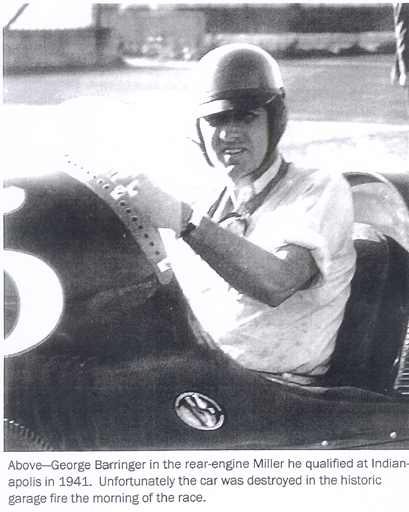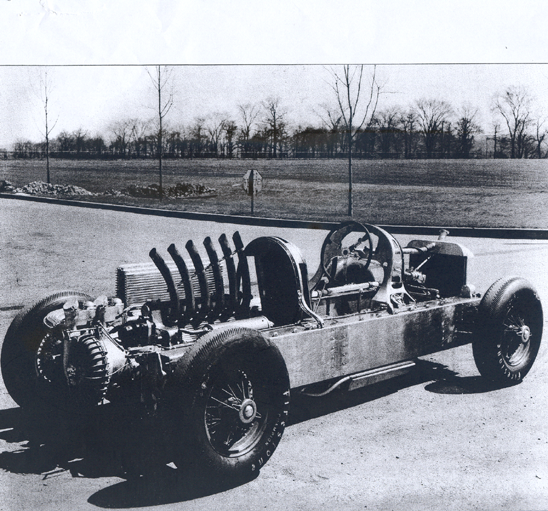 The Gulf Racing cars of 1941 retained the Miller drivetrain and general layout, but had drastically reduced frames, bodies and suspensions, all for the worse in nearly every aspect but safety, as the gas tanks were enclosed within the box section frame rails. The device under the chassis is an oil cooler, which was removed after 1941 because of its vulnerability.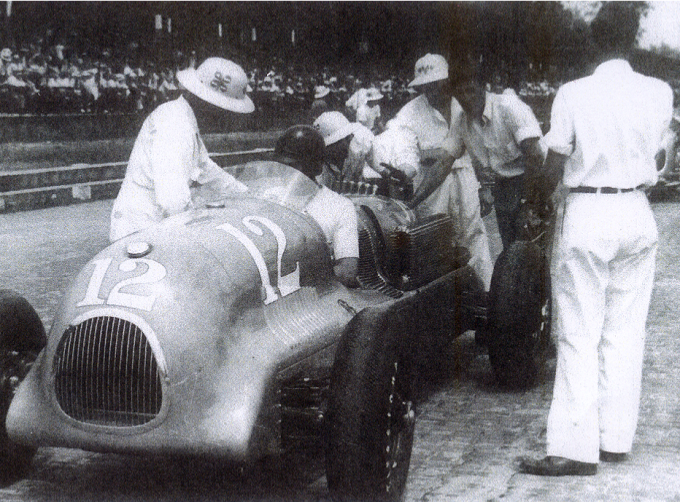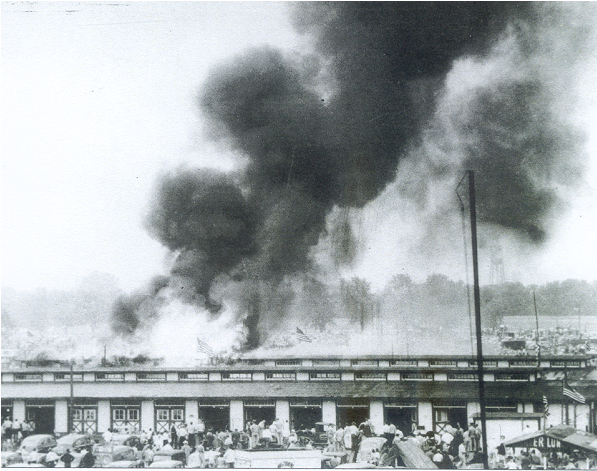 Fire engulfs part of the garage area in the early morning hours prior to the 1941 Indy 500.
Barringer's car was a total loss

Due to the loss of his car in the fire, Barringer did not have a ride, but he helped teammate Al Miller on his car.