Barringer Was an Icon of Early American Championship Auto Racing

Indianapolis 500 Years: 1934-1946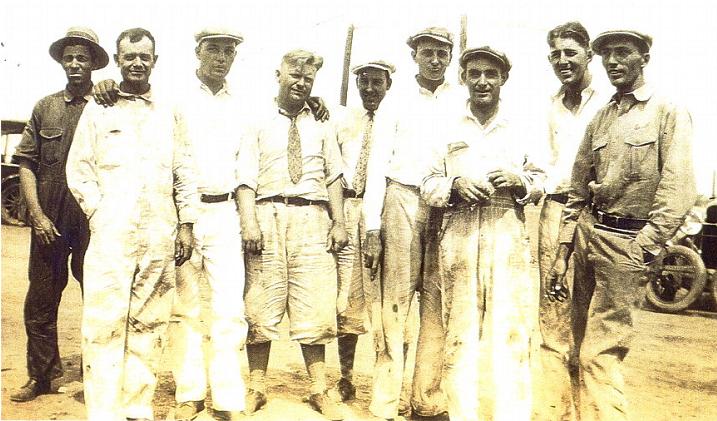 Prior to a race in Frederick, Oklahoma, 1929

George Barringer lived in only two towns in his life; Wichita Falls, TX and Indianapolis, IN. It seems some newspaper reporters used the last track that a driver drove at as his hometown.(For example, George ran a race in Dallas, TX, then next week drove in St. Louis, MO. The papers would list him as being from Dallas).
When he married in 1935, his wife started collecting newspaper articles about him and found out that in a two year period, newspapers listed him as being from ten different towns. It bothered Velma, his wife, but very few things upset George. If he had a bad race, he would only say, "It was not my day," He never used the word "Luck." That was not in his vocabulary. The word luck, to him was an excuse.
George was raised by a father who had a set of guidelines about life, and one of them was, "If you don't have anything important to say, then don't say it." When Velma Barringer asked Harry Miller why he liked George so much, Miller replied, "George listens."


RACE TRACKS-1929
Kansas State Fairgrounds, Hutchinson, KS; Arkansas City Speedway, Winfield KS; Arrowhead Park Speedway, Houston, TX; Tulsa Fairgrounds, Tulsa, OK; Nevada Fairgrounds, Nevada, MO; Duncan Fairgrounds, Duncan, OK; Frederick Fairgrounds, Frederick, OK; Houston, TX; Wichita Falls, TX, San Antonio,TX

George (on left) at Duncan, Oklahoma, 1929

George in car at Arkansas City, Kansas, 1929